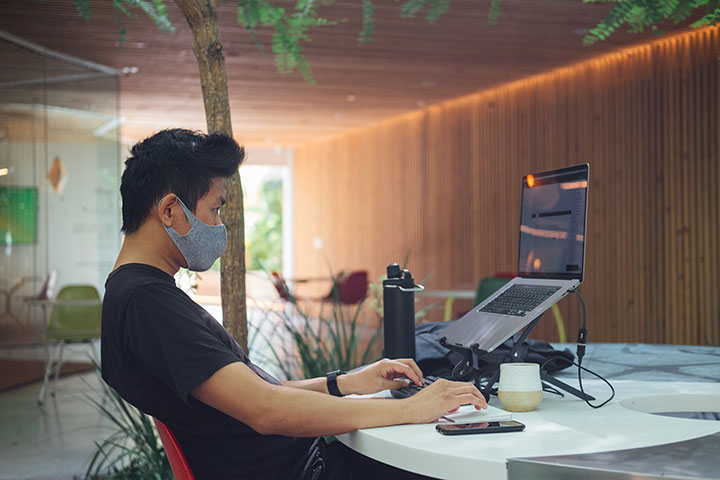 March 28, 2021 | 10:11 PM
The New Normal: How Tech Industry Is Embracing Remote Work
The COVID-19 pandemic has changed the way we live our lives today. With physical and social distancing in mind, simply commuting to our offices to be able to work seemed impossible to do. But now that technology has advanced tremendously, giving us access to things needed for work like communication, office tools and the like, remote work in the new normal has become acceptable.

The Rise of Remote Work

With the pandemic limiting our physical interaction with people around us, many businesses and companies have shifted to having a work-from-home set up to lessen risks of getting infected by the virus.

Technology has filled the gap by using different tools like Zoom and Teams for communication, which enabled people to work remotely without compromising the quality of their job. These advancements made businesses eventually adapt and appreciate the advantages of working from home.
Fewer Expenses
Even before, companies abroad hired an offshore team to outsource manpower. Hiring remote staff is a way for the company to lessen expenses on labor. And now that the majority of offshore teams require to work remotely, their expenses can lessen more than usual because they can cut costs in energy, water, and other operational expenses they have in a normal office setting.
Employers are not the only ones that benefit from the work-from-home setup, but the employees as well. By working from home, the remote staff can cut their cost of transportation from their daily commute. Not only that, but they can also lessen costs from their meal expenses by not eating out at restaurants during lunchtime and even after work.
Increased Productivity of Employees
It is said that employees working remotely have increased their productivity. A remote staff does not only cut expenses with the daily commute but the time spent in traveling is cut down as well. By skipping the stress and hassle of commuting to work, employees' minds become more clear and more inspired to work, thus, they become more productive.
The increased productivity in working from home is more evident in the tech industry. The nature of their work gives them an advantage to easily adapt to technological change. The job of IT developers and programmers is also tedious and requires extensive attention to detail. Working remotely can help them focus more because there are fewer distractions as compared to working in an office setting.
Overall, since remote work is really "flexible" in terms of managing an employee's time, they get to have a clearer goal in finishing their task and overall increase their productivity.
The Future of Remote Work and Embracing It
With numerous benefits of remote work not only to employees but to employers alike, it will not be a surprise if work-from-home setups will not just be a trend and be embraced by a lot of companies even after the pandemic.
There are a lot of career opportunities waiting for you at Offshore Team. Aside from working remotely at your own convenience, we also offer a competitive salary and benefits. What are you waiting for? Join our growing IT team today!
Recent Post
Want To Find Out More?
Contact Us
Want To
Find Out More?
Talk to us and build your offshore team today!
Ready to Get Started?
Your email address will not be published. Required fields are marked with an asterisk (*).